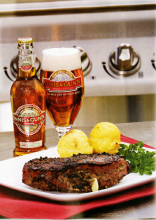 Published May 23, 2012 in the Ottawa Citizen
Ted Reader boosts beef with beery recipes
The brews are not just for guzzling. He uses the beers to baste ingredients, in brines, and to inject extra flavour. "For me, beer is all about having fun," he says from his Etobicoke home.
Reader, a former corporate development chef in the mid-1990s for Loblaws and President's Choice in Toronto, must have had tons of fun developing the recipes for his new cookbook Beerlicious, the Art of Grillin' & Chillin'.
The book — his 18th — carries more than 100 recipes, some from guest contributors (including myself, with Ron's Beer-Brined Arctic Char). But that's just the beginning, Volume One. "I'm working on Book Two," he says.
Recipes from Sticky Pig's Tails using Stella Artois, to Grilled Veal Liver with Bass Ale, or head cheese made with Cameron's Auburn Ale, and German Chocolate Cake using stout ale, are as varied as they are inspiring — from a chef who actually does his own recipe development, cooking and plating. The book also comes stuffed with lavish photos and useful tips on cuts of meat, what to look for, how to handle them, cooking temperatures and methods.
Reader may be entertaining and he is frequently irreverent, but his food is delicious — he's the guy who popularized the now-commonplace backyard barbecue favourite, cedar-planked salmon — and his lust for more is infectious. He is his own brand (with a Ted Reader line of spice rubs, sauces, even wood planks to incinerate) and not a cookie-cutter frontman from a marketing agency.
He says cooks should not get stuck if they don't have a specific brand named in a recipe. "Be flexible.
"Beer drinkers aren't usually that fussy — it's a cold beer, hey, I'll drink it. So if you can't find Wellington County Dark for the coffee-crusted porterhouse steak, then go with another dark from someone you do know.
"Kichesippi makes a great beer that could go with steak, and I know Beau's Lug Tread would be wonderful. Neither is dark, but they both have enough flavour and body to handle that coffee and steak."
From the book, the recipe for Stuffed New York Strip Steak was created by Ottawa's own Steph Legari, a.k.a. Steph the Grilling Gourmet, host of the show Grill This, Smoke That on Rogers TV. The recipe, using oak-aged Innis & Gunn Original Beer from Scotland, marries the earthy richness of mushroom medley with woody notes in the aged beer, for a memorable performance when stuffed into beef along with melted havarti.
"The recipe comes from my love of stuffed foods — using food as a serving vessel," Legari says.
"More often than not, great steak comes with mushrooms, onions and you have it with beer. So I figure, why not put all this goodness in the steak itself for something unusual, tasty and easy to replicate?"
Legari especially loves Innis & Gunn, which he gets at the LCBO. "I have not found a substitute," he says. "I love the fact it is aged in oak barrels, so there's a ton of character to this beer and it's perfect in this dish."
As for tips on cooking with beer, Legari suggests you try a couple of new brews each week, then go online and check out their pedigree. "Some beers are heavy and work well with red meat, others are light and go well with chicken or fish."
The Wellington County Dale Ale Coffee-Crusted Porterhouse is from Reader, who likes to embellish his bovine with Roquefort butter. (Blue cheese always goes well with beef.)
In this case, dark ale with coffee and molasses is robust enough to complement one of the most prime cuts of well-marbled beefsteak. The result is a kiss of toasted beer bitterness, which helps soften the nip of Roquefort.
"You really have to like beer for a lot of this. What I want you to do is be inspired," Reader says.
"Beer is not just for drinking. There are so many different beers you can pick up. You can pair them with food, you can incorporate them in recipes and just have fun.
"Whatever you do, don't be shy. I am definitely not shy."
Steph The Grilling Gourmet's Stuffed New York Steak
Makes: 4 servings
For the rub:
■ 2 tablespoons (25 mL) freshly ground black pepper
■ 1 tablespoon (15 mL) red chili pepper flakes
■ 1 tablespoon (15 mL) dehydrated onion flakes
■ 2 tablespoons (25 mL) dried parsley
■ 4 tablespoons (65 mL) dehydrated garlic flakes
■ 1 tablespoon (15 mL) dried chives
■ 1 tablespoon (15 mL) coarse kosher salt
For the steak:
■ 4 strip loin steaks, each about 12 ounces (375 g) cut 1 ½ inches (4 cm) thick
■ 8 large white mushroom caps
■ 8 large cremini (brown) mushrooms
■ 8 large shiitake mushrooms
■ 2 portobello mushrooms
■ Salt and freshly ground pepper, to taste
■ 6 tablespoons (100 mL) unsalted butter
■ ½ cup (125 mL) red onion, diced
■ 1 bottle (12 oz./330 mL) Innis & Gunn Oak Aged Beer
■ ½ cup (125 mL) fresh herbs, chopped coarse (parsley, sage, thyme)
■ 4 pieces havarti cheese, each 1 ½ inches long and 1/4-inch square (4 cm x 6 mm)
Make the rub by combining all rub ingredients well; set aside.
Prepare smoker according to manufacturer's instructions, preheating to 180 F (85 C)
Place all mushrooms in smoker and smoke with hickory chips 30 minutes. Remove, cool completely, then coarsely chop mushrooms. Season to taste with salt, pepper.
Make a pocket in each steak by slicing through the centre of one long edge, leaving the 3 other edges intact; cover meat and refrigerate.
In a sauté pan, melt half the butter over high heat, add mushrooms and sauté until mushrooms are softened and most of the liquid has evaporated.
In a skillet, melt remaining butter, add diced onion and cook until coftened. Add beer and cook until almost all of the beer has evaporated. Season to taste with salt, pepper. Toss in mushrooms, remove from heat to cool completely. Stir in herbs.
Remove steaks from refrigerator and stuff each half full with the mushroom mixture. Insert 1 piece of cheese, then stuff rest of pockets. Rub steaks with the prepared dry mixture, gently pressing to adhere. Cover and refrigerate 6 to 8 hours to let flavours develop.
Remove steaks from refrigerator and let come to room temperature. Preheat grill to medium-high (450 to 550 F/230 to 280 C). Grill steaks, turning once, 20 to 25 minutes, or until cheese starts to melt out of the pockets.
Remove steaks from grill, tent with foil and let it rest 5 minutes before serving.
Source: Steph Legari
Wellington County Dark Ale Coffee-Crusted Porterhouse with Roquefort Butter
Makes: 4 to 6 servings
For the butter:
■ ½ cup (125 mL) unsalted butter, softened
■ ½ cup (125 mL) crumbled Roquefort cheese
■ 2 teaspoons (10 mL) fresh rosemary, chopped
■ 2 teaspoons (10 mL) freshly squeezed lemon juice
■ Salt and freshly ground black pepper, to taste
For the coffee rub:
■ ½ cup (125 mL) dark-roast coffee beans
■ 6 cloves garlic, minced
■ ¼ cup (50 mL) fresh rosemary, chopped
■ ¼ cup (50 mL) fresh parsley, chopped
■ ¼ cup (50 mL) freshly ground black pepper
■ ¼ cup (50 mL) olive oil
■ ¼ cup (50 mL) Wellington County Dark Ale
■ 2 tablespoons (25 mL) molasses
■ 2 tablespoons (25 mL) balsamic vinegar
■ Salt, to taste
For the meat:
■ 4 porterhouse steaks, each 24 ounces (750 g)
■ 3 bottles Wellington County Dark Ale (each 12 ounces/341 mL)
For the Roquefort butter, in a food processor or using a whisk and mixing bowl, thoroughly blend butter, Roquefort cheese, rosemary and lemon juice. Season to taste with salt, pepper, and freeze in airtight container until needed. Let warm to room temperature before serving.
To make the coffee rub, using the bottom of a heavy frying pan, crush coffee beans. (Coffee grinder not recommended because coffee should be coarse.) Place in bowl with remaining rub ingredients and stir to combine well. Refrigerate in airtight contained up to 2 weeks.
For the beef, each steak all over with coffee rub, gently pressing to adhere. Brush steaks with oil and place in a glass dish; pour 2 bottles of ale over top. Cover, refrigerate to marinate 2 to 4 hours.
Preheat grill to high (550 F/280 C). Drain steaks, discarding marinade, and pat dry with paper towels.
Grill steaks, occasionally drizzling with beer, 10 to 12 minutes per side for medium. Remove and let meat rest at least 5 minutes before serving.
Serve topped with Roquefort butter.
Source: Beerlicious, by Ted Reader
© Copyright (c) The Ottawa Citizen
Read more: http://www.ottawacitizen.com/life/Steak+meet+suds/6667473/story.html#ixzz1voMLpCX9